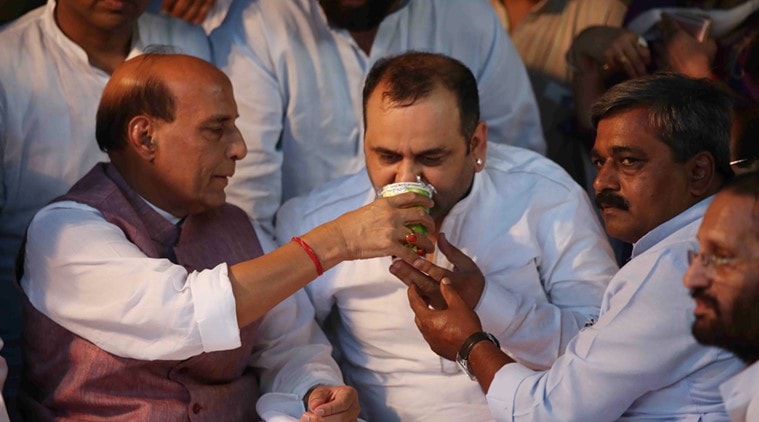 BJP MP from East Delhi Maheish Girri Tuesday ended his three-day hunger strike outside Delhi Chief Minister Arvind Kejriwal's residence in the presence of Home Minister Rajnath Singh.
"I challenged Kejriwal for a debate, it has been 3 days. He didn't turn up so its their loss. I'm going to end my hunger strike today," said Girri.
The home minister dropped by the protest venue today evening and requested Girri to end his fast.
Watch: Maheish Girri ends Hunger Strike Outside Kejriwal's Residence
"I have come here to request Maheish Girri ji to end his fast," said Singh.'
READ | Maheish Girri performs Yoga outside Kejriwal's house
Girri was demanding an apology from Kerjiwal after the chief minister accused the BJP MP of being involved in the murder of NDMC official MM Khan.
Reacting to this, Girri had challenged Kejriwal for an open debate and after he did not get any response from the Delhi CM, he decided to sit on hunger strike outside his house.
On Monday, BJP leaders including Rajya Sabha member Subramanian Swamy and Manoj Tiwary also visited the spot and lent their support to Girri. Swamy also demanded that Kejriwal should be sacked if he did not apologise.