KOLKATA: Bangladesh had to call in two concussion substitutes on Friday after Liton Das and Nayeem Hasan were hit on their helmets by Mohammed Shami deliveries.
Mehidy Hasan Miraz became the fourth concussion substitute in the history of Test cricket when he replaced the injured Das. Later, Taijul Islam replaced Hasan, making it the first time that two concussion subs have been used in a Test match.
Both Liton and Nayeem were taken to the Woodlands Hospital for precautionary tests. Liton had a CT scan done while Nayeem underwent an MRI. The tests revealed no serious injuries and both were discharged in the evening.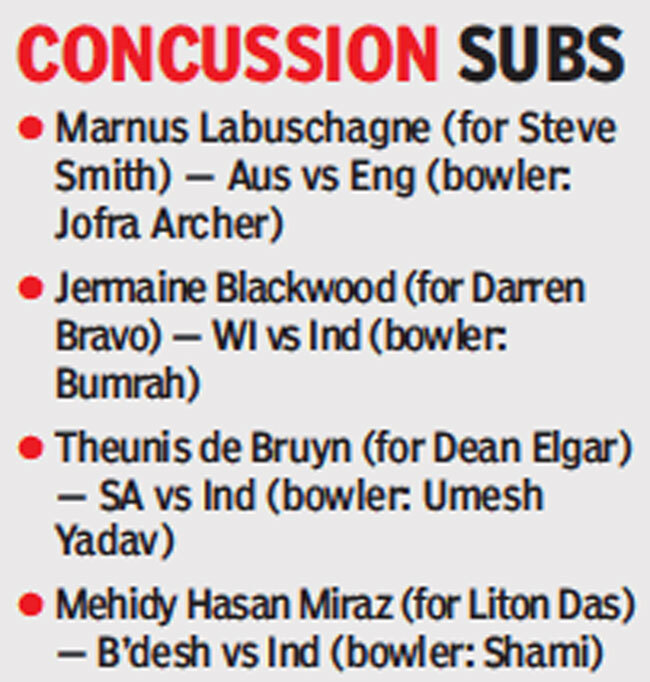 Interestingly, the fiery Indian pacers have been the cause of four out of five concussion subs used so far since ICC introduced the rule.
As per the new rule, the replacement's role has to be as close as possible to the player he is standing in for. That would mean specialist spinner Miraz will not be able to bowl as he has come in for a wicket-keeper batsman. Left-arm spinner Taijul, however, can bowl he has replaced an off-spinner.
Liton was in the process of scripting a minor recovery for Bangladesh, when he was struck on the helmet by Shami in the 21st over of the innings.
The delivery on off stump climbed to catch the right-hander by surprise. Liton took off his helmet, even as Shami came up to check on him. The team physio did the initial inspection and it seemed Liton was fit to continue. He did, for another over, even striking a couple of boundaries, before walking out. Incidentally, that also marked the first break. Mehidy did not last long, but later pouched a catch to dismiss Mayank Agarwal.
Nayeem, after being struck with the third ball he faced, also continued to bat and struck four boundaries in his 19 before being bowled by Ishant Sharma. He was substituted later. Ironically, Bangladesh chose not to replace two of their batsmen in the touring squad, who have been ruled out.