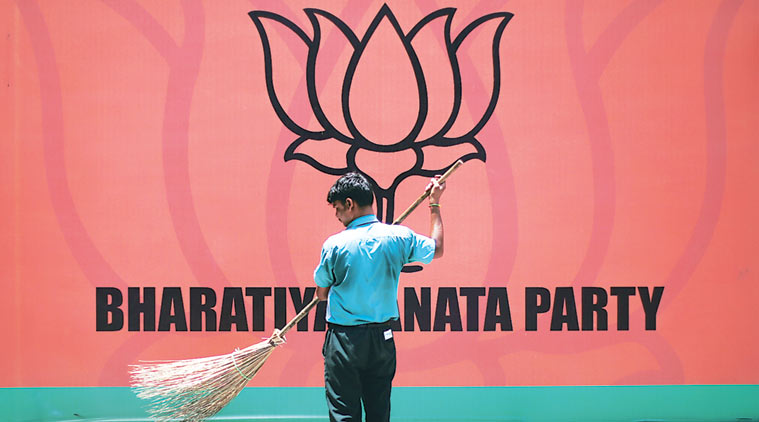 Delhi BJP's State Executive Committee meet concluded Sunday with party leaders urging workers to remain "alert and active, and communicate in order to fight the Kejriwal government in the state".
BJP's National Organisational General Secretary Ramlal asked party leaders to adopt weak booths and gave a new organisational slogan "Kamzoor Booth ki Chinta, Mazboot Karyakarta ke Dwara" (weak booths will be looked after by strong workers).
Party's state general secretary Ashish Sood said Delhi is passing through a critical phase and BJP workers need to be "vigilant in their fight against the undemocratic Kejriwal regime".
[related-post]
Watch Video: What's making news
Sood laid before the party workers a political resolution listing "the failures and corruption scams of Delhi government, stating that it holds the autocratic, anarchic, whimsical attitude of the chief minister responsible for plunging Delhi into a constitutional crisis and bringing the administrative and development work to a standstill in the national capital".
Union Minister for Social Justice and Empowerment, Thawar Chand Gehlot addressed the last session of the meet and emphasised that Delhi BJP workers "should immediately prepare for next year's municipal elections with door to door campaign to ensure the party's victory".
Party leaders in three civic bodies Subhash Arya, Sanjay Jain and V P Pandey presented reports of their working. BJP MPs Maheish Girri and Meenakshi Lekhi also attended the meeting.
Leaders at the meeting asked party workers to reach out to those living in slum clusters and urban villages as "they hold the key to electoral success". They also allocated the responsibility to the workers of the Mahila Morcha, SC Morcha and Minority & Mazdoor Morchas.
While seconding the political resolution passed in the meeting, Leader of Opposition in the Delhi Assembly Vijender Gupta alleged corruption "in almost every financial deal of this government, especially in the app-based Premium Bus Service Scheme and the water tanker scam".