Who is the greatest chess player of all time? It is as hard to answer as 'who is the greatest batsman or bowler or cricketer of all time'? Still, as Viswanathan Anand jokes, the press loves to ask such questions to generate clickbait answers, so pundits and players alike do their bit of kite flying even when everyone agrees that "comparisons are odious."
So in chess, would that greatest be Magnus Carlsen, who has touched FIDE's highest-ever ELO rating of 2882? Or could it be Garry Kasparov, whose peak ELO was 2851, but who has held FIDE's top spot the longest for 255 months? Or Bobby Fischer, who when he crushed Denmark's Bent Larsen 6-0 in a face-off, was assessed as having the highest performance rating of 3080 just for that contest?
How about this five-time world champion from India, a Grandmaster so versatile that he is the only player to have won the world championship in tournament, match, and knockout format, as well as rapid time controls, and who has graced the highest levels of the game and is still going strong, at 50?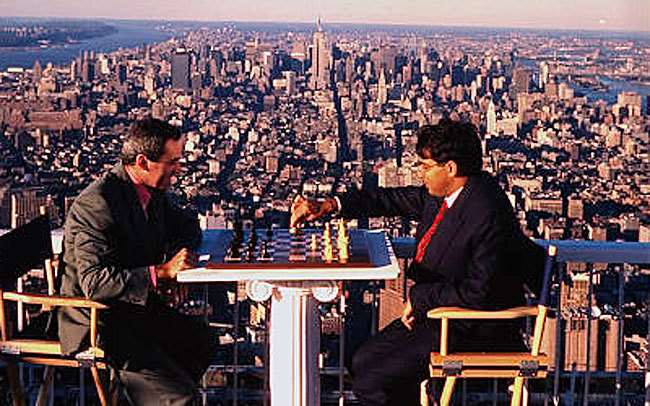 WORLD'S VIEW: Anand and Kasparov during the 1995 world title match at World Trade Center, New York. (Getty Images)
We are speaking on the phone in one of our occasional conversations a few days before his 50th birthday and begin by joking about our vintage. Anand and I have been in touch so long that I still have his Compuserve email address from the '90s.
Back around 1990, this young kid had just won a major tournament and was passing though Delhi when I first called him. Following an interview that left me convinced he was destined for great things, I beseeched (and besieged!) the editors of Times of India that the story should run on Page One. They agreed; and our passionate coverage of the "lightning kid" – because of his speed of play – began.
By 1995, when he qualified to meet Garry Kasparov for the world title (played atop New York City's World Trade Center), I had moved to the US. On 9/11, Anand was among the first people I harked back to – because we had spent time atop the iconic building that was rendered rubble.
All this a mere 20-25 years ago.
The top three Grandmasters of today were toddlers when Anand took on Kasparov. Top-ranked Magnus Carlsen was five, No. 2 Fabiano Caruana and No. 3 Ding Liren were three. In fact, all three were not even born when he became GM in 1988.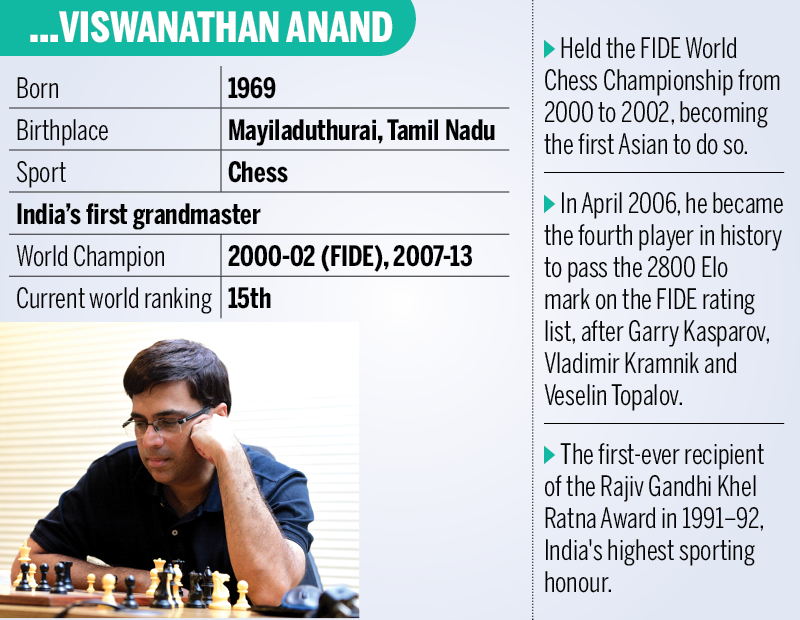 There was of course a time when Anand himself was a minnow playing elder statesmen. In 1989, he played his only game against Vasily Smyslov, a former world champion, who was 68 then, in Groningen, Holland (they drew). The same year, he played Boris Spassky (then 52) twice at Cannes, winning one and drawing the other. Chess had plenty of grizzled veterans, sexagenarians and even septuagenarians during Anand's early days.
Today, chess has increasingly become a young person's game. By 40, most players are struggling to be in the Top 25. The average age of world's top 100 GMs now is only around 31. In fact, Anand, at 50, is the oldest GM among the Top 25 by a long shot. His one-time peers and contemporaries are falling further and further behind: Vassily Ivanchuk, six months older is now ranked 45th. Boris Gelfand, a year older, is ranked 52nd. Evgeny Bareev and Gata Kamsky have even dropped out of the Top 100.
It is staggering then that Anand is still ranked 15th at 50 and duking it out regularly with guys young enough to be his sons – Carlsen at 29, Caruana at 27, Wesley So at 26, and some, like Polish prodigy Jan-Krzysztof Duda, a stripling at 21.
"Oh! You bet I feel it," he laughs, on being elder statesman of the circuit now. He can already see the difference in intensity between him, his generation and the new kids on the block. After a grinding day's match play, the young titans relax with friendly blitz games with each other into the night. Anand repairs to his hotel room to Skype with the pillar of his life Aruna and their son Akhil.
You wonder how much longer he can be at it as he deals with a Dhoni-esque dilemma: he's still top grade, the next best Indian GM (P. Hariskrishna) is ranked 27th. He answers them with typical candor in his new book Mind Master in a final chapter fittingly titled "Staying Alive."
"I don't can't recall the first time I felt old … there was no definitive moment that yanked at my thoughts and filled me with cold dread over the approach of another birthday," he writes. When you are young, it is easy to ascribe a spate of poor results to performance clefts but as he gets into his 40s, doubts begin. Particularly when he messes up against a younger player, like he did against Carlsen during their first world title clash in Chennai (which he lost 6.5-3.5 without a win), "my neural pathways literally light up, signaling, "Look, we told you this has to do with age!"
Remarkably, after that disaster and months off the circuit, Anand bounced back for another shot against Carlsen. Though he lost 6.5-4.5, it restored faith that the man 21 years younger to him is not unbeatable. Nor are the other young guns.
Anand acknowledges it is getting harder and bowing out crosses his mind all the time, but there will be no half-measures till then. "You have to either compete very hard or not at all…there's no such thing as playing for fun at that level," he said. "If it's going to happen, I'll have to go cold turkey."
But perhaps not just yet, although there was revealing moment during Kolkata's recent Tata Steel tournament when he narrowly missed a qualifying spot at the Grand Chess Tour Final in London. Anand nevertheless chose to see the bright side of life. "The good news is Akhil won second prize in a school competition in school. I am very happy about that," he chuckled.
The champion of chess had fully embraced the beauty of life.